Paternoster, the Elevator that Never Stops
October 11, 2012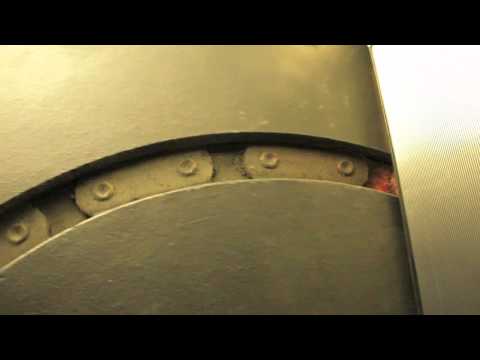 Wikipedia:
A paternoster is a passenger elevator which consists of a chain of open compartments that move slowly in a loop up and down inside a building without stopping. Passengers can step on or off at any floor they like. As a result of safety issues, many such lifts have been shut down, however a small few survive around the world.
The name paternoster ("Our Father", the first two words of the Lord's Prayer in Latin) was originally applied to the device because the elevator is in the form of a loop and is thus similar to rosary beads used as an aid in reciting prayers.
Paternosters were popular throughout the first half of the 20th century as they could carry more passengers than ordinary elevators. They were more common in continental Europe. They are rather slow elevators, typically travelling at about 0.3 metres per second, thus improving the chances of getting on and off successfully.
The construction of new paternosters is no longer allowed in many countries because of the high risk of accidents (people tripping or falling over when trying to enter or alight). Five people were killed by paternosters from 1970 to 1993. An 81-year-old man was killed in 2012 when he fell into the shaft. Old people, disabled people, and children are the most in danger of being crushed.