Felix Baumgartner – The Highest Skydive
October 15, 2012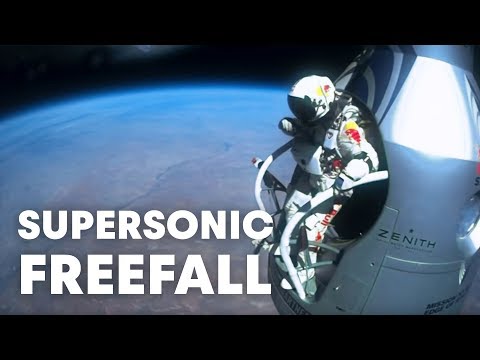 redbullstratos:
Felix Baumgartner earned his place in the history books on Sunday after overcoming concerns with the power for his visor heater that impaired his vision and nearly jeopardized the mission. Felix reached an estimated speed of *833.9 mph / 1,342.8 km/h (Mach 1.24). This preliminary figure would make him the first man to break the speed of sound in freefall and set more records while delivering valuable data for space exploration.
"The exit was perfect but then I started spinning slowly. I thought I'd just spin a few times and that would be that, but then I started to speed up. It was really brutal at times. I thought for a few seconds that I'd lose consciousness. I didn't feel a sonic boom because I was so busy just trying to stabilize myself. We'll have to wait and see if we really broke the sound barrier. It was really a lot harder than I thought it was going to be."
After reaching an altitude of 128,100 feet (39,045 meters) in a helium-filled balloon, Felix Baumgartner completed a record breaking jump from the edge of space, exactly 65 years after Chuck Yeager first broke the sound barrier flying in an experimental rocket powered airplane. The 43-year-old Austrian skydiving expert also broke two other world records (highest freefall, highest manned balloon flight), leaving the longest freefall to project mentor Col. Joe Kittinger.
…………………………….