Evolution of the Uneven Bars in Women's Gymnastics
August 15, 2012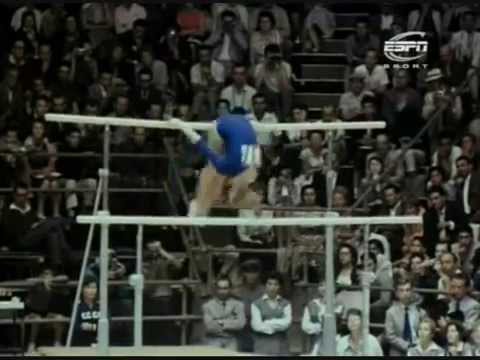 Wikipedia
"The uneven parallel bars event has changed a lot over the years. It originally consisted of men's parallel bars set to different heights. Consequently, the bars were very close together, and gymnasts could transition from one to the other with little difficulty.
Routines of the early 1950s chiefly consisted of simple circles, kips, and static balance elements and holds. In the late 1950s the trend shifted toward fluid motion, and gymnasts began to perform routines composed of more difficult circles, kips, beats (bouncing the body off the low bar while hanging from the high bar), wraps (wrapping the body around the low bar while hanging from the high bar) and transitions. Release moves also began to come into play, although they were almost entirely limited to transitions between the low and high bars.
In the late 1960s/early 1970s, companies began manufacturing uneven bars as a separate specific apparatus. The design was changed slightly to allow the bars to be adjustable, with tension cables that held the apparatus to the floor. As a result of this change, coaches could set the bars farther apart. Additionally, the circumference of the bars themselves decreased, allowing gymnasts to grasp and swing from them with greater ease.
As other events in gymnastics increased in difficulty, so did the uneven bars. Gymnasts and coaches began experimenting with elements, attempting more challenging dismounts, and adapting moves from men's high bar. By the mid 1980s, routines had become so based on swing and release moves that the bars were moved even farther apart. The distance between bars increased even more as gymnasts developed difficult transition elements that required space, such as the Pak salto.
Of all the apparatus in women's artistic gymnastics (WAG), uneven bars is probably the one that has seen the most radical changes. Most elements from 1950s and 60s bars routines are now completely obsolete; others, such as the once-traditional beats and wraps, are impossible given the current diagonal separation between bars; and still others, such as static holds and the Korbut Flip, are not permitted under the current Code of Points."