Gallium, a Metal Melting in the Hand
September 06, 2012
Gallium is a chemical element with symbol Ga. Elemental gallium does not occur in nature, but as the gallium(III) compounds in trace amounts in bauxite and zinc ores. A soft silvery metallic poor metal, elemental gallium is a brittle solid at low temperatures. Held long enough, gallium will melt in the hand as it liquefies at temperature of 29.77 °C (85.59 °F). Its melting point is used as a temperature reference point. From its discovery in 1875 until the semiconductor era, gallium was used primarily as an agent to make low-melting alloys.
Today, almost all gallium is used for microelectronics. Gallium arsenide, the primary use of gallium, is used in microwave circuitry and infrared applications. Gallium nitride and indium gallium nitride, minority semiconductor uses, produce blue and violet light-emitting diodes (LEDs) and diode lasers.
Gallium Melting in the Hand:

Gallium, perfect to make jokes: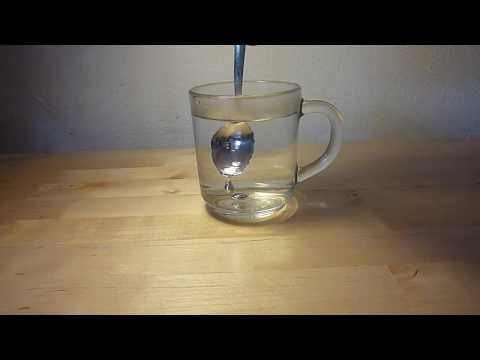 Aluminium + Gallium : A strong and robust coke can is turned into the equivalent of wet tissue paper with gallium: